ABOUT US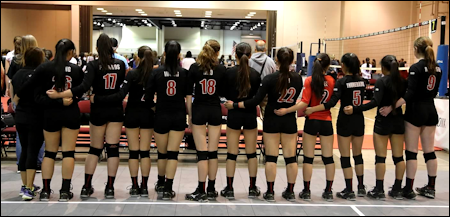 SF Tremors was established in November 1998 with the main objective of giving young athletes an opportunity to learn and experience playing competitive volleyball in a positive, family-friendly atmosphere. For the past 20 years, SF Tremors has been dedicated to providing the best club experience possible to every player and family through top quality organization, disciplined and structured training, and emphasis on the values of excellent work ethic, sportsmanship, positive outlook, and camaraderie.
Here at SF Tremors, we are committed to provide a program of excellence in the achievements and sportsmanship of our athletes, in our coaching and administration, and, most importantly, in opportunities for every athlete to develop into the best individual she can be. Our athletes will gain an experience that cultivates the character and leadership abilities that will prepare them for future endeavors in volleyball and in life.
Our training program is designed to teach proper technique in basic fundamentals and advanced volleyball skills, as well as incorporate a strength and conditioning regimen to further propel our athletes to the next level. Throughout the years, SF Tremors has been consistently successful in developing our athletes and has become a very competitive club among the Northern California Region, earning several bids to the prestigious Junior National Championships. These achievements are a product of pure hard work, team discipline, commitment, and excellent training provided by our coaching staff.
Our organization offers programs all year round with the club season and Developmental Program starting from November to June, the Summer Program from June to August, and the Fall Weekend Clinics from September to October. SF Tremors will be entering its 20th consecutive season this coming November. We provide Power, Area, and Developmental Practice teams for the benefit of all players of different skill levels and experience.
SF Tremors is a member of the Northern California Volleyball Association, a region of USA Volleyball — the National Governing Body (NGB) for the sport of volleyball in the United States.